DG URBAN WARMKEEPER BODY GREY
Warm and Elegant Body / Onesie for Italian Greyhounds and Whippets
Our Body is the perfect blend of style and comfort for your furry companions.

Soft and Warm: This Onesie is made from high-quality, soft, and warm material, ideal for cooler days. Your Italian Greyhounds andn Whippets will always have warmth and comfort.

Flexible and Comfortable: The Body is designed with your dogs' comfort in mind. The flexible material easily adapts to the body of your Italian Greyhound or Whippet, ensuring maximum comfort and freedom of movement.

Keeps Warm and Protects: We want your dogs to always be safe and warm. The Body not only keeps your dogs warm but also provides protection against adverse weather conditions.

Tailored Fit for Sighthound Curves: We believe that every dog is unique, which is why we designed this Body with the specific curves of Italian Greyhounds and Whippets in mind. The cut is tailored to their body shape, guaranteeing a perfect fit and a distinctive look.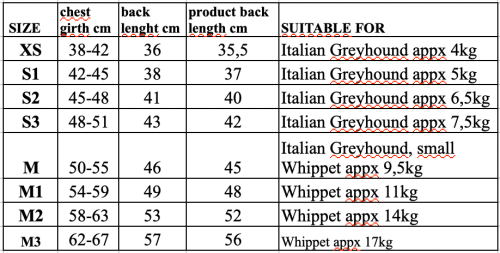 If you are not sure about sizing, do not hesitate and contact us at info@dgdoggear.com
Gallery